| | |
| --- | --- |
| PLG Mission statement | |
Our School PLG shall strive to:
a. Develop a closer connection between school and home by encouraging parent involvement.
b. Enhance the educational experience by supporting academic and enrichment activities.
c. Improve the environment at our school by providing volunteer and financial support.
PLG News
BINGO NIGHT – Friday, January 18, 2019
Sign up for the family Bingo Night!
GREAT PRIZES with limited seating so Register below Online TODAY!!!
For more information and details to register via online or kidmail see the flyer.
This event is for PLG members – join the PLG for only $10 Online or via the Membership form and come have fun at this great family event. Can't remember if you're already a member?
Click on this link to find out.
If you register for Bingo and did not pay your $10 PLG Membership dues, you will be contacted & placed on a waiting list.
Go Green!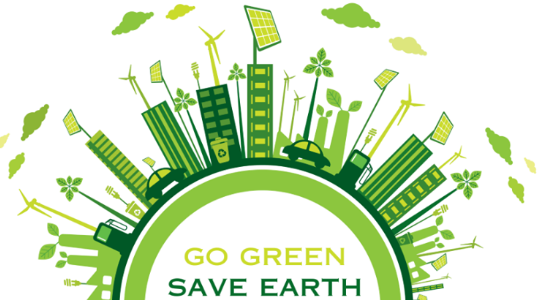 Indian Hill Parents,
Please consider to volunteer to during lunch periods!
Indian Hill school has started an exciting new initiative to teach children about being mindful about food waste. The children have an opportunity to learn what it takes to compost their left overs and see how it is used in the school garden.
Indian Hill PLG Go Green initiative is looking for parent volunteers to help children properly deposit their lunch scraps into Compost Tumblers during 4th and 5th lunch periods. Please consider signing up to help the Indian Hill Go Green!!!
Click Here to Sign Up
HARLEM WIZARDS – Thursday, January 31 at 7 PM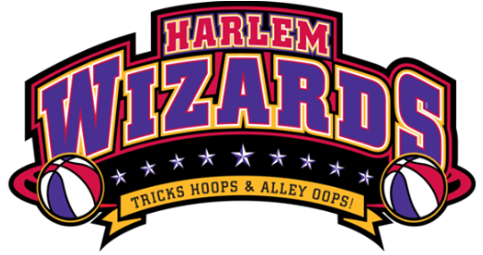 The Harlem Wizards are coming to Holmdel!!
Thursday, January 31 at 7 PM
Holmdel High School Gym
SAVE THE DATE: The Harlem Wizards are Back!
Thursday, January 31 at 7PM at the Holmdel High School Gym
A high-flying, slam-dunking, rim-rattling basketball show is coming back to town!
On Thursday, January 31 the world-famous Harlem Wizards will join us for an evening of great fun and fundraising as they play a game against a team of Holmdel School District administrators and teachers. All proceeds will benefit the William R Satz School PSG.
Get your tickets today before they sell out!!
https://harlemwizards.thundertix.com/events/140871
Any questions, please e-mail [email protected]
BOOSTERTHON RECAP
Indian Hill united in support of their school as all students participated in a Fun Run powered by Boosterthon sponsored by the PLG Board.
Thank you to all our volunteers, teachers, staff, parents, community sponsors, administration: Ms Marino (who agreed to being slimed) and Mr.Ferrerase, our Holmdel Board of Education members: Ms. Lui and Mr. Hammer. In addition, our Superintendent, Dr. McGarry and Director of Curriculum and Instruction, Dr. Seeley for all coming to support us! Indian Hill rocks and you make us all so proud!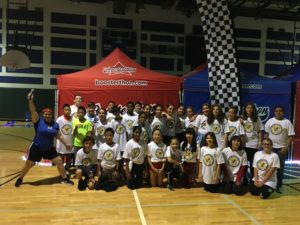 Indian Hill School News
1/16 – MAP Literacy testing
1/17 – MAP Math testing
1/18 – PLG Bingo Night
COMMUNITY NEWS
RECYCLE PLASTIC TOYS – Friday, January 18, 2019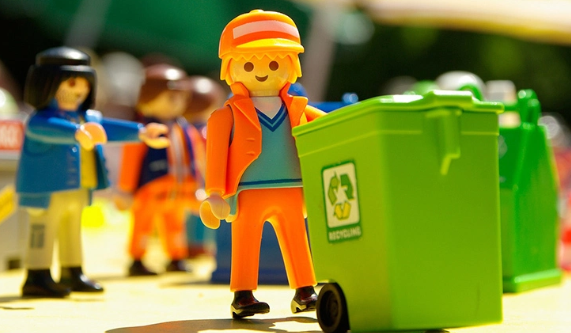 Holmdel Township is launching a new recycling program for plastic toys.
It's a great opportunity to find a new home for items that children may have outgrown and reduce the amount of plastic waste in landfills.
The next community collection date is coming up soon: Friday, January 18th.
Click here to see the details!
Girls who code – January & February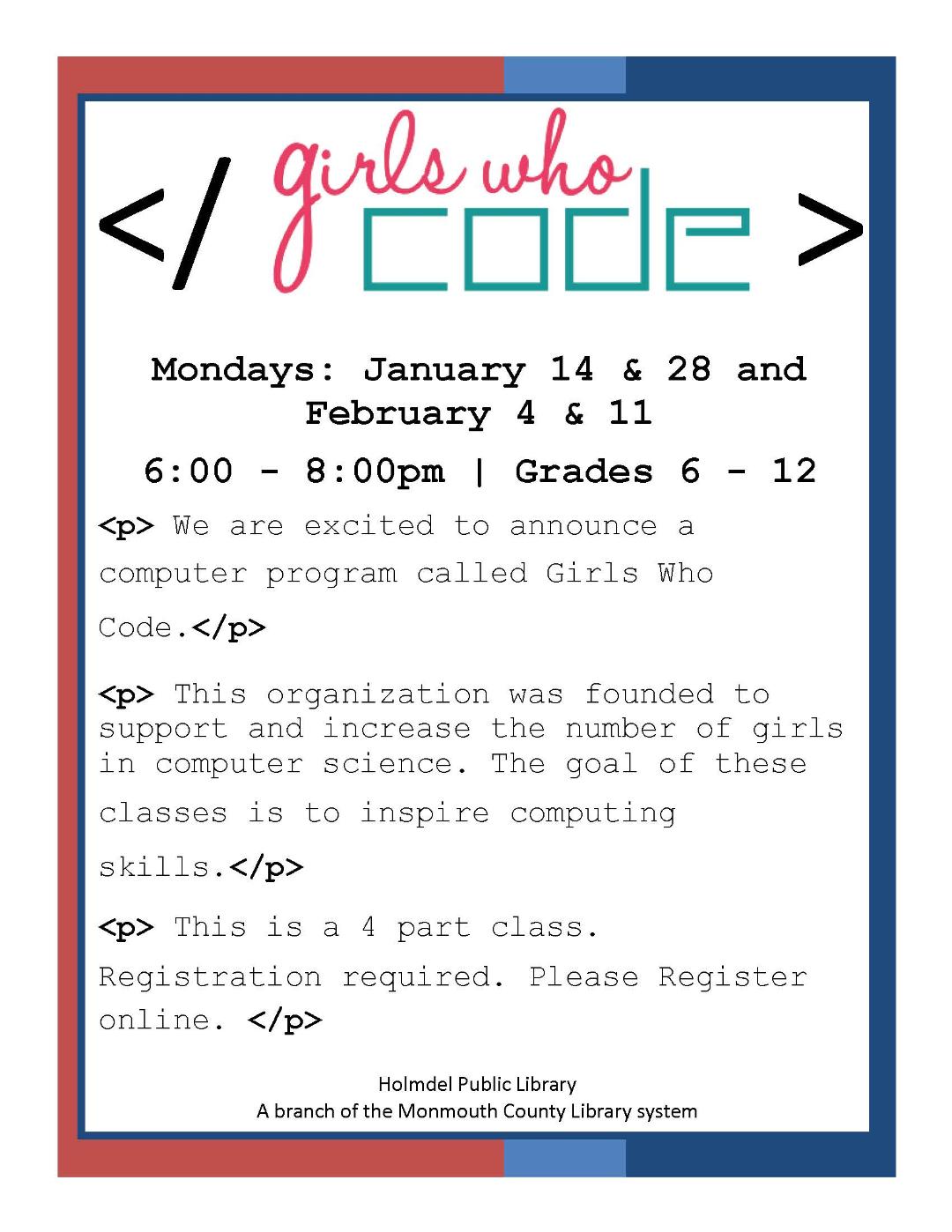 SAVE THE DATES
PLG Events for 2018/2019 School Year
EVENT
DATES
PLG Meetings
Time: 9:15 AM
Place: Cafetorium
Friday, September 7, 2018
Tuesday, October 2, 2018
Friday, November 2, 2018
No meeting in December
Friday, January 4, 2019
Friday, February 8, 2019
Tuesday, March 5, 2019
Tuesday, April 9, 2019
Tuesday, May 7, 2019
Tuesday, June 4, 2019 (Year End Breakfast Meeting)

6th Grade Hangout
5th Grade Hangout
4th Grade Hangout
Friday, September 21, 2018
Friday, October 12, 2018
Friday, October 19, 2018
Indian Hill Boosterthon Kick-Off
Friday, September 28, 2018
Casola Farms Welcome Back Night
Saturday, September 29, 2018
Indian Hill Boosterthon Fun-Run
Friday, October 12, 2018
Red Ribbon Week
Monday - Friday, October 22 - 26, 2018
Holiday Shoppe
Tuesday - Friday, December 4 - 7, 2018

Bingo Night
Friday, January 18, 2019

Valentines Day
Tuesday - Thursday, February 12 - 14, 2019
Gertrude Hawk Chocolate Sale
February 22 through March 13, 2019
Boardwalk
Friday, March 22, 2019
Earth Week
Monday - Friday, April 22 - 26, 2019
Amanda's Hallmark Shopping Day
Thursday, April 25, 2019
Cookie Staff Appreciation Day
Friday May 3, 2019
Plant Sale
Thursday & Friday, May 9 - 10, 2019
Career Day
Friday, May 17, 2019
PLG School Store Dates for 2018/2019

All Fridays
9/7/2018
11/2/2018
12/14/2018
1/4/2019
2/1/2019
3/1/2019
4/5/2019
5/3/2019
6/7/2019
View/Print PLG Calendar 2018/2019
PLG Membership
Membership supports our school community, provides donations to the school to enhance our children's educational experience and provides for family fun activities!
We need your support to make it all happen!
Family membership is only $10 so become a member today!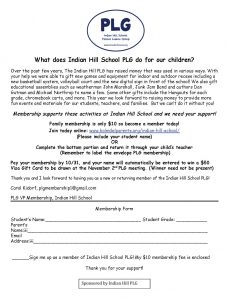 PLG Membership Form 2018-2019.pdf
VOLUNTEERING AT INDIAN HILL
The PLG has many very fun events and activities scheduled for this year and we want you to be included! Don't miss out on these last few great years while our children are still young enough to want us around. The time you give will pay you back with a

lifetime of memories

. If you are interested in

volunteering

, we welcome you to contact us at

[email protected]

. Join us in making the Indian Hill Community a great place for our kids to grow and learn.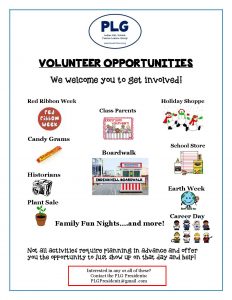 PLG-VOLUNTEER OPPORTUNITIES.pdf
PLG POINTERS
Helpful Hints when Entering Indian Hill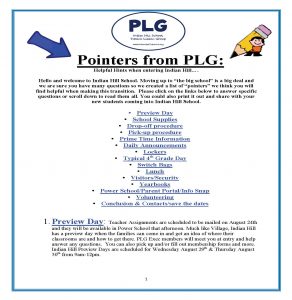 More easy fundraisers for Indian Hill:
Raise money for the PLG while doing your shopping – at no extra cost to you!!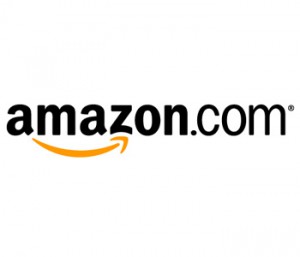 Earn money for the Indian Hill PLG just by shopping at Amazon.com!! Simply click the Amazon button to the left, or log onto www.amazon.com/?tag=inhiscpl-20. Amazon will donate a percentage of each sale back to the PLG! It's that easy!! If you have a personal Amazon.com account you can log in before using this link, and all of your personal settings and addresses will still be available to you. But remember – the PLG only receives earnings when you shop through our link!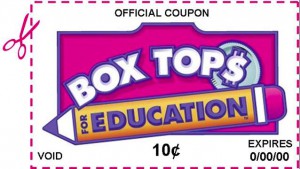 Clip boxtop labels and send them to school AND shop online! Click the Boxtops button, or visit www.boxtops4education.com. Click "Earn" and then "Shop Marketplace". Indian Hill PLG automatically earns a percentage of every online sale!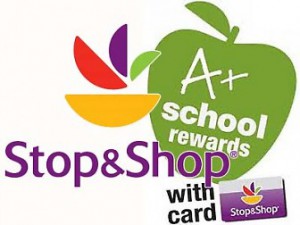 Click the button to the left or visit www.stopandshop.com/aplus to register your Stop & Shop card. Each time you shop the PLG receives a percentage of the total purchase! Remember: you must register your card every year.

Register your Pathmark Advantage Club Card online and each time you shop the PLG earns a percentage!
Log onto www.escrip.com/merchants/identity/pathmark/index.jsp or click the escrip button. Use group name "Indian Hill Elementary School"
Parent Resources
THE IMPORTANCE OF SOCIAL EMOTIONAL LEARNING