Hello Parents,
Welcome to the 2022-2023 school year! We would especially like to extend a warm welcome to our new and 7th grade families! The PSG has an exciting year of events planned. Some of those events include a back-to-school bagel breakfast for our 7th and 8th graders, Snack Shack, Egg My Yard fundraiser, tricky tray and our 8th grade graduation dance, to name a few! All of these events depend on the help and support of our parents.
As a result of the tremendous support of our parents and the hard work of the PSG Executive Board last year, we were able to throw the Class of 2022 a beautiful graduation dance and donate some items to enhance the Mindful Garden that will be available for the student to use this Fall. We hope to have another successful year!
Please consider helping and volunteering throughout the year. Below is a description of some of our fun events! Visit our website periodically for updates, download the WRS PGS calendar of events and watch out for our newsletters for more information!
If you have any questions or suggestions, please feel free to reach out to us at [email protected]. We look forward to a fun and exciting year!
Thanks,
Gabriella Pettinato & Michelle Richards
Satz PSG Co-Presidents
---
2022-2023 Satz PSG Calendar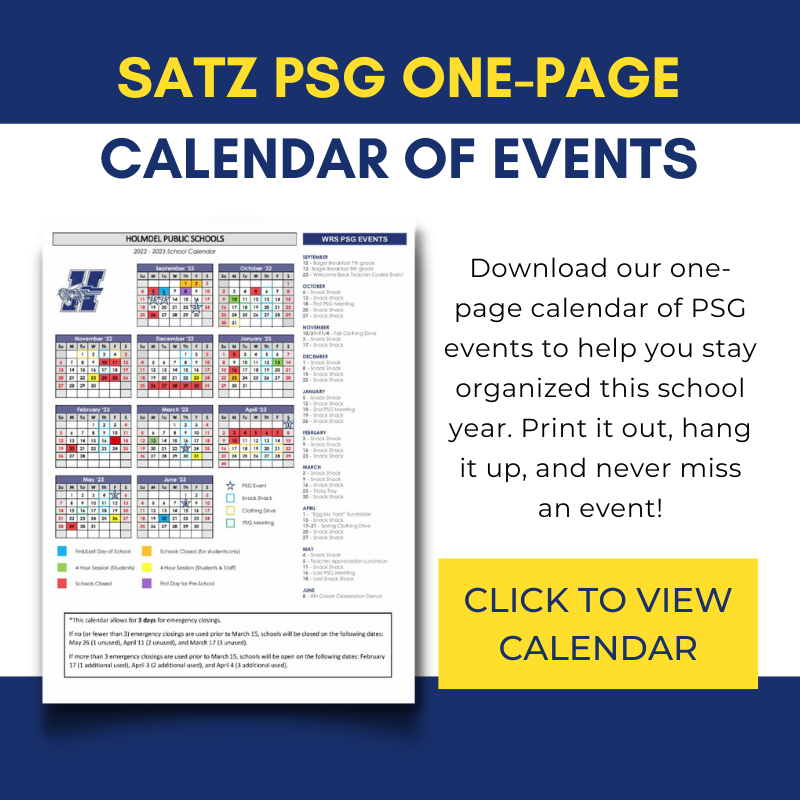 ---
The PSG is proud to announce the
Executive Board for 2022-2023:
Co-Presidents
Gabriella Pettinato
Michelle Richards
VP Membership
Denise Dietz
VPs Fundraising
Jaclyn Denton
Sabrina Hayes
VP Communications
Sheryll Yu
Recording Secretary
Jamie Buitrago
Treasurer
Kristy O'Connor