Satz Annual Tricky Tray Fundraiser
Support The Event
Donate an Item/Service
FAQ
Donor Recognition
Don't miss Satz's biggest event and most important fundraiser of the year!
Annual Tricky Tray 2023
Temple Shalom
5 Ayrmont Ln, Aberdeen Township, NJ 07747
Thursday, March 23, 2023
Our annual Tricky Tray event is always a hit! It's a casual night for us to chat, laugh, and win great baskets! It's bring-your-own food and drink to share with your friends. Last year we made $9,370, and our goal this year is $10,000.
The funds we raise from the auction provide our kids with a memorable 8th-grade graduation dance held at the beautiful The Gramercy, additions to the mindful garden, and other PSG-sponsored events.
Last year, we covered the cost of the entire 8th-grade graduation dance held at The Gramercy and donated to the school's mindful garden! Without funding from the PSG, these events and ground improvements would not be available for our kids.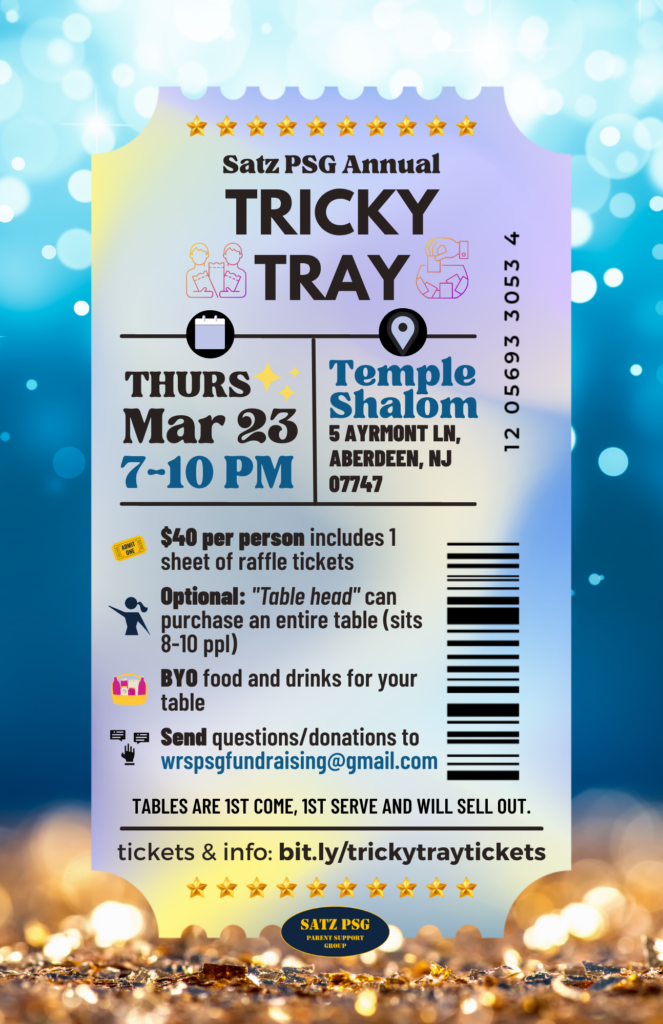 Support the Auction
1. Attend!
Don't miss the Satz event of the year – purchase tickets at http://bit.ly/trickytraytickets.
How it works:
The table head purchases a table when Tricky Tray sales are live (tables are limited so plan ahead!)
The table head coordinates with their friends to split the cost, determine who is bringing what food/drinks, etc.
Come to the event and have a merry night with good friends, food, drinks, baskets, and luck!
2. Donate
The auction only works with the amazing support of our parents who help solicit donations. Please read our Donation Wish List for ideas and reach out to your contacts. Companies are usually very willing to support public schools.
Get started:
Submit Donations Online By Clicking Tab Above
3. Bid on Items
This is the most fun. Come to the event ready to bid on unique items, gift cards to your favorite stores and restaurants, fun and unique experiences, and so much more. You can only bid if you attend the event, so make sure you have a seat at a table!
Thank you for your support!
Your fundraising co-chairs,
Jaclyn Denton & Sabrina Hayes
Thank you for your generous support of the Satz PSG! We are looking for donated items and experiences, including Sports and Theater tickets, Kid and family-friendly classes, camps and activities, Dining certificates, Travel vouchers for hotel stays and airfare, Spa/Salon services, group parties & tastings, Concert tickets, VIP backstage passes and more!
All donations are welcomed and appreciated, and all net proceeds from the auction go back to our students. Donations are due on March 7, 2023. Questions? [email protected].
Annual Tricky Tray 2023
Temple Shalom
5 Ayrmont Ln, Aberdeen Township, NJ 07747
Thursday, March 23, 2023
How is this event different from other events?
You can be assured that the proceeds will go directly back to our children and the school. The Tricky Tray event is also meant to be casual and laid-back. There's no dress code or theme; you are encouraged to come as you are! The event is also potluck style (bring-your-own-food and -drinks). For the home chef, your table will be able to enjoy your homemade cooking/baking. If you're short on time, you can share a dish or dessert ordered from your favorite restaurant with your tablemates. Socializing, sharing good food and drinks with each other, and cheering for your tablemates when they win baskets is the main idea!
What if I don't have enough people for a table?
Purchasing a table is optional. Tickets are sold on an individual basis. If you put in your child's grade on the order form, we will try our best to sit you with other parents with children in the same grade. If you know a few people attending, but are purchasing separately, let us know, and we'll try to place you at the same table.
How do I know who is bringing what to my table?
Prior to the event, table heads will be assigned to each table, and contact information will be provided. The table head will reach out to their tablemates and coordinate which food and/or drinks each person will bring ahead of time. Tables in the past have also coordinated to contribute a basket to the event.
Is this event only for Satz families?
The Tricky Tray event is open to everyone. You are welcome to purchase as many tables to accommodate your friends or family who you want to share a potluck dinner and/or catch up with. The more, the merrier!
I can't attend, but how can I help support the event and the school?
We encourage all families to contribute monetarily for us to put a basket together or to donate physical items for a basket. The best way to do it without spending money is to ask for donations from businesses you frequent!
Our Tricky Tray event is made possible by the generosity of individuals and businesses. Please support our 2023 PSG supporters!
Almost Home
Alternate Ending
AMF Strathmore Bowling
Angelica's Sea Bright
Asobu
Bagel Boyz
Bar Method
Beach Bum
Bear and Birch
Bridgelife Thrift Store
Buy Rite
Camp Coconut
Central Jersey Basketball
CKO Middletown
Cleansing Concepts
College Collaborative
Colts Neck Dance School
Costco
Count Basie
Craftsnbows
Crazees
Cuties Boutique
Cyrus Barber Shop
Dentist Esteban Chan
DJ Jeff and CO
Donovans Reef
Dorney Park
Driftwood/Drifthouse
Eat Clean Bro
Enchanted Blossom
Equinox
Finding Balance Functional Nutrition
Foxhollow Vineyard
Gentleman's Choice Barber Shop
HerSpace
Holly Farkas
Holmdel Bagels
Holmdel Orthodontics
Holmdel Theater Company
Hummus & Pita Co
Impreveduto Family
Interior Design for Day
Jennifer Li Interiors
Keri Bryceland
La Luna Counseling & Wellness
Learning Express
Let's Roam
Moxie Hair Salon
Music Lessons by Amanda
Nina Jewelers
Oak Hill Farms
OCD Spaces
Ocean House
Oh La La Hair Studio
One River Art School
Orange Theory – Middletown
Over Easy Kitchen
Perrotti Quality Meats
Prime Barber
Radiant spa
Robin Robinson
Rook Coffee
Seacret
Seastreak
Shopmod
State Theater of NJ
StretchLab
Sundaes
Sweetest Sin Boutique
The Boiling Point
The Elegant Ella
The Gathering Shops
Turning Point
Windsor Gatherings (Polovina Family)
Woks of Life
Don't see your name here? Donate now and support our cause!
* Updated as of 2/27/23