Our next PTSO meeting is
Monday, March, 13 2017 at 9:30am in the HS auditorium.
Please join us at 9:15 for refreshments and conversation.
The PTSO is looking for volunteers for the 2017-2018 Executive and Appointed Board.
PTSO Bake Sale
Donations needed for our PTSO Bakes Sales. Bake sales dates are 3/21, 4/18, and 5/16
Please contact Yvette Yu at [email protected] if you would like to donate.
Family Hypnotist Show
Friday, April 21st at Holmdel High School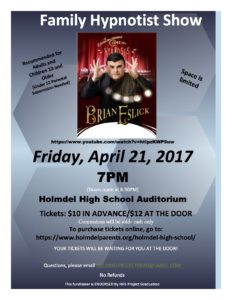 Fun Family hypnotist show coming to Holmdel sponsored by Project Graduation!
Purchase Tickets Here
Project Graduation costs over $20,000 but our fundraising efforts and your generous donations make it possible to offer Project Graduation for free!
Please consider adding Project Graduation to your donation list. We are a 501 (C)(3) and your donation is tax deductible.
Please send your donation to PTSO Project Graduation c/o Holmdel HS, 36 Crawfords Corner Road, Holmdel NJ 07733
Thank you!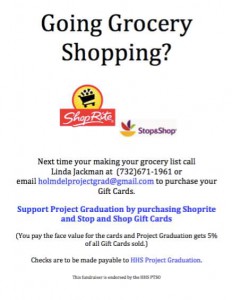 Call Linda Jackman at (732) 671-1961 or email [email protected] to purchase Shop Rite and Shop & Stop gift cards. Project Graduation earns 5% of the proceeds from all gift card sales.
Student Directory
2016 Holmdel Student Directory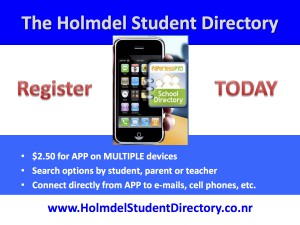 The High School Go-To Guide is ready! 
A great read for Parents and Students! Please click on the link below to find answers to important questions and helpful tips!