Our next PTSO meeting is
Monday, January, 9 2016 at 9:30am in the HS auditorium.
Please join us at 9:15 for refreshments and conversation.
PTSO Bake Sale
Donations needed for our PTSO Bakes Sales. Bake sales dates are  1/17, 2/21, 3/21, 4/18, 5/16
Please contact Yvette Yu at [email protected] if you would like to donate.
Project Graduation:
Help support Project Graduation by participating in the Chipotle Fundraiser! Come to the Chipotle in Holmdel on February 21st between 4:00 PM and 7:00 PM – 50% of all sales goes to Project Graduation! Click on flyer for more information!
Project Graduation works hard to provided a safe night for our seniors after graduation! About  95% of all seniors participate!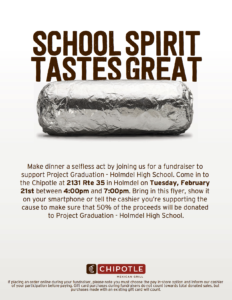 Project Graduation costs over $20,000 but our fundraising efforts and your generous donations make it possible to offer Project Graduation for free!
Please consider adding Project Graduation to your donation list. We are a 501 (C)(3) and your donation is tax deductible.
Please send your donation to PTSO Project Graduation c/o Holmdel HS, 36 Crawfords Corner Road, Holmdel NJ 07733
Thank you!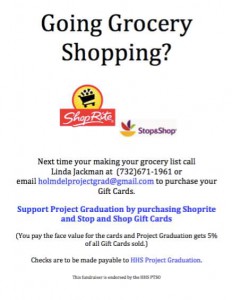 Call Linda Jackman at (732) 671-1961 or email
[email protected]
to purchase Shop Rite and Shop & Stop gift cards. Project Graduation earns 5% of the proceeds from all gift card sales.
Student Directory
2016 Holmdel Student Directory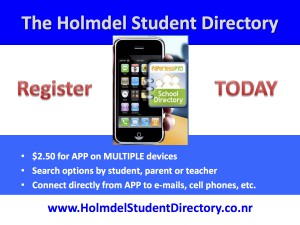 The High School Go-To Guide is ready! 
A great read for Parents and Students! Please click on the link below to find answers to important questions and helpful tips!